The Breaking Bad series premiered in 2008 and ended in 2013, crushing many in its wake. Fans trembled in fear over Tuco, gasped at unexpected explosions at critical high-stake moments, and worried about little Holly for five whole years; and the show left its mark on us all. We've compiled a list of the best Breaking Bad gifts for your geeky associates!
This article contains AMAZON AFFILIATE LINKS. Sounds scary, but it really just means that I get some kick-back change when you buy a product in my article (with NO ADDED COST to you). The internet is a magical place, amirite?
1.The Walter White in a Hazmat Suit Figurine
This 6-inch tall Breaking Bad figurine features Walt in his hazmat suit and will get your geeky associate saying, "SQUUUEEEE!" before they even get him out of the box. He comes with a gas mask and a couple beakers, and gives one the strange urge to say, "I am the one who knocks."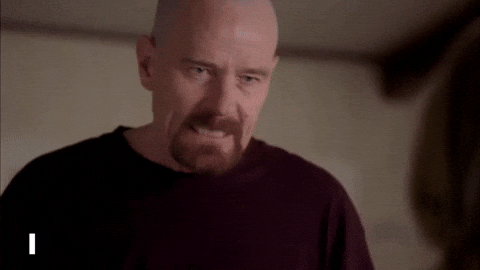 2.The Saul Goodman Posing like the Monopoly Guy Figurine
Another 6-inch tall Breaking Bad action figure, featuring everyone's favorite salty lawyer. In terms of Breaking Bad merchandise, figurines seem to be a really big deal. Notice how Saul is pointing and winking simultaneously like the snake we all know he is. But really, he turns out to be a good guy (good enough for his own spin-off show, at least).
3. The Gus Fring with Half his Face Burned Off Figurine
The last 6-inch plastic doll we will show you, really. Remember that time the baddest mother fucker in a television series got half his face blown off!? NOOO!? Well, we are positive that your geeky associate does, and they will love this figurine for capturing Gus's, ehhh, blasted empirical business attitude…. see what we did there?
Maybe your geeky associate isn't really into collecting 6-inch plastic replications of their favorite characters. Maybe they'd like some Breaking Bad apparel! Comes in a variety of sizes, but unfortunately does not come with the sexy tattooed torso modeling the shirt on Amazon. (We are sad about that, too. You're not alone.)
5.Science, Bitch! What more is there to explain?
Not suitable for work, maybe. Depends on what your associate does for a living. In any case, this T-shirt is the perfect ode to ole Jesse Pinkman, long time science enthusiast. Available in many sizes, and styles. We even found one that's a wife beater! The best Breaking Bad clothing that there is!
6. Los Pollos Hermanos T-Shirt
Los Pollos Hermanos, (The Chicken Brothers for all the 'Merican's out there.)the business covering Gus's meth biz. The only Breaking Bad memorabilia that only a Breaking Bad fan would recognize… that's also been mass produced… This design comes in 12 colors, a variety of sizes, and also a hoodie.
7. An 'I am the one who knocks.' Poster
Some people like to collect their favorite characters and decorate their homes with them. One of the best quotes from the whole show + Walt looking very Heisenberg-ly at the camera + print it all out on shiny paper = The very gift your geeky associate may be pining after.
8. All the Best Characters On Silk
You never knew that printing a poster on white silk was a thing? We didn't either! I bet your associate will be as surprised as we were when they see this amazing Breaking Bad art. The poster features Walter, Jesse, Gustavo, and Mike (one of the best background characters, in our opinion.)
Nowadays, everyone has a phone. Most people have a case on their phone to protect it! We are sure that your geeky associate will love fitting their phone into this super-gangsta lookin' case!
A great choice for any professional – too many jobs out there require a person to strip away their personality for the sake of professionalism. These cufflinks are the perfect way to shove it the man's face but like, low-key and no one will know.
11. Breaking Bad: The Complete Series on DVD
Last, but certainly not least, we suggest getting your geeky associate the complete Breaking Bad boxed set on DVD. I mean, no fandom was created watching random reruns. Fandoms are created by binging the whole series for 4 days and not taking a shower.